DTP - Desktop Publishing
Do you need the page layout of the translated document to be identical to the original?
Hong Kong Translation has a DTP (Desk-Top Publishing) department which provides a "turn-key" document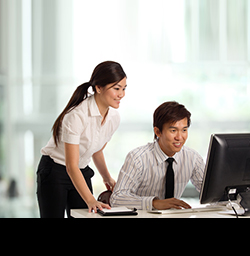 service. Your translated text can be returned to you quickly in any language or file format. Among others, the programs we use are as follows:
InDesign
PageMaker
QuarkXpress
FrameMaker
Publisher
PowerPoint
The advantage you get when combining DTP with your translation is that you do not have to deal with languages that you do not know, thus avoiding your text being incorrectly positioned.
Using Hong KongTranslation, your translation will be laid out perfectly, just as if you were working in your own language.
Please send us your source text in any of the above formats and we'll do the rest.